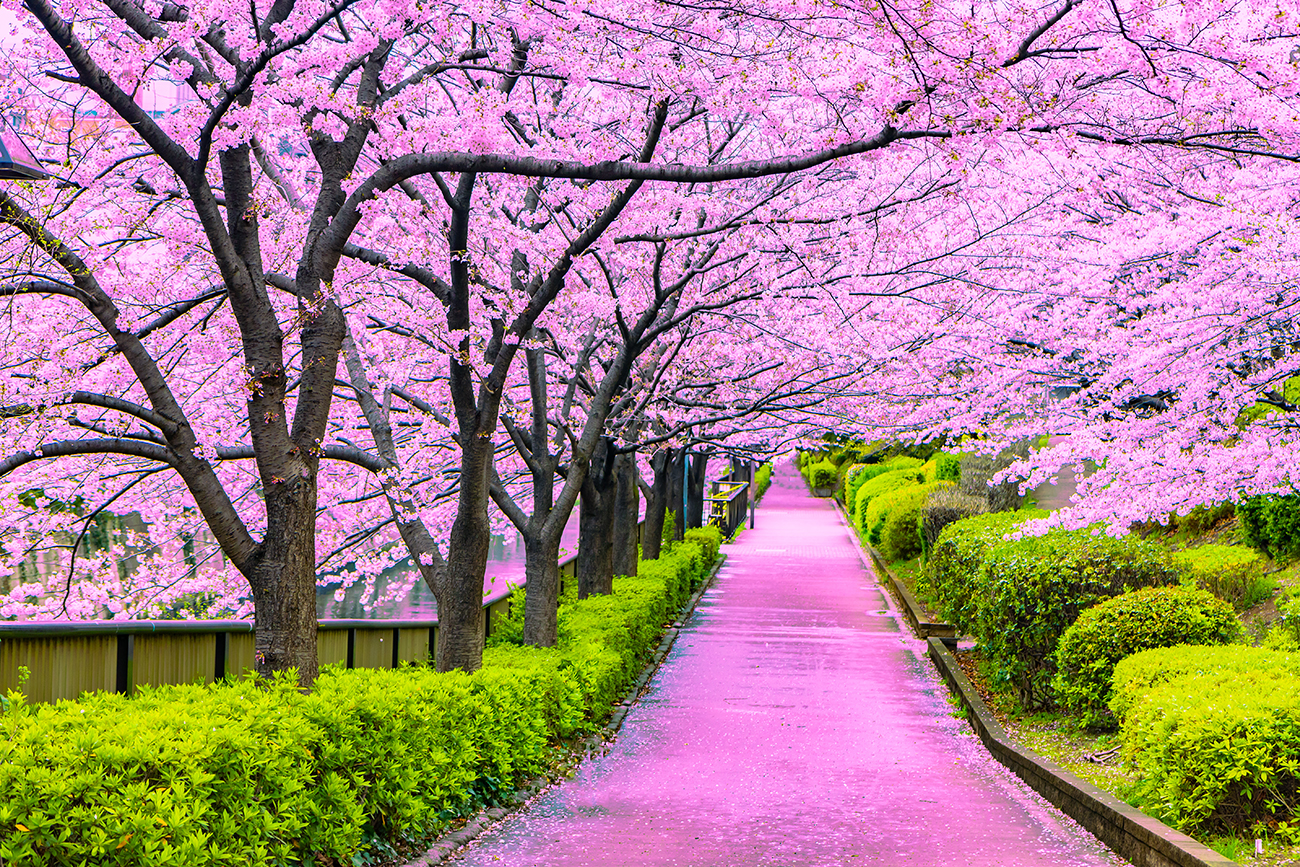 Cherish the Beauty of Japan's Cherry Blossoms
Cherry blossoms, or Sakura, come from ornamental cherry trees that can be found all over Japan. They bloom at the start of spring, and branches that were barren during the winter are suddenly filled with a glorious array of pink and white blossoms.
Cherry blossoms are deeply ingrained in the history and culture of Japan, and they have come to identify the country in the minds of foreigners. They are full of symbolism, such as their state of impermanence (since blooms only last up to a week or two) which resonates with the samurai culture and the Japanese aesthetics of wabi-sabi. These gorgeous blossoms play a role in numerous Japanese artworks, in the ancient and the modern eras.
Cherry blossoms are not just visually appealing; they taste good, too! They are an ingredient in various cakes and pastries, such as sakura-mochi balls. In this photo below, the glutinous rice has taken on the pink shade of the cherry blossoms and is partially wrapped with a sakura leaf for a mild tangy taste.
Hirosaki Castle, from "Eight Scenes of Cherry Blossoms," 1935. woodblock print by Yoshida Hiroshi  | Wikimedia Commons
Hanami
If you attend the Spring program at KCP, you can experience the fun and pleasure of hanami. This cherry blossom viewing picnic is sure to be memorable, as spring is the perfect time to appreciate the cherry trees in all their pink glory. If there is one occasion to whip the camera out of your bag, this is it!
Here is a photo of KCP students posing under a cherry blossom tree during a hanami picnic:
KCP International photo archive
Check out KCP's hanami photo set in Flickr!
National Cherry Blossom Festival in Washington D.C.
In 1912, Japan gifted over 3000 cherry blossom trees to the United States as a sign of friendship. Since then, thousands more trees have been given and were planted around the tidal basin at West Potomac Park in Washington, DC.
The National Cherry Blossom Festival annually commemorates this gift by offering a two-week celebration to accommodate the thousands of visitors who want to revel in the beauty of the cherry blossoms.
Next year, in 2012, the National Cherry Blossom Festival will celebrate its centennial anniversary by showcasing a massive affair that will span five weeks. Whether you are a KCP student in Japan or are visiting the Washington, D.C., area, don't miss out on the chance to view the spectacle of cherry blossoms in full and glorious bloom!
Sources:
www.stolaf.edu/people/kucera/YoshidaWebsite/evolution/essay_pages/stephanie_cargile.htm
www.att-japan.net/modules/tinyd1/rewrite/tc_27.html
www.nationalcherryblossomfestival.org